Day 5
Rome - Orvieto - Assisi - Loreto
Sightseeing tour on foot, entrance to the 14th century Cathedral of Orvieto. The building was constructed under the orders of Pope Urban IV to commemorate and provide a suitable home for the Corporal of Bolsena, a miracle which occurred in 1263 in the nearby town of Bolsena, when a traveling priest who had doubts about the truth of transubstantiation found that his Host was bleeding so much that it stained the altar cloth. The cloth is now stored in the Chapel of the Corporal inside the Cathedral. See a Chapel of San Brizio and St.Patric Well.
Assis- Guide for city tour on foot (English speaking) Visit San Francesco basilica (guide explanation are permitted only by using official whisper system ASSI/WHIS – The basilica is one of the most important places of Christian pilgrimage in Italy. The Papal Basilica of St. Francis of Assisi is the mother church of the Roman Catholic Order of Friars Minor. Assisi is the city where St. Francis was born and died.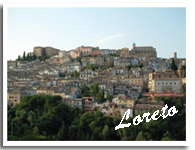 Day 6
Loreto - Manoppello - Lanciano - Pescara
Loreto: Shrine of the Holy House of the Virgin Mary is preserved and venerated. It is the holy place defined by Pope John Paul II as "the true Marian heart of Christianity". The sanctuary has been one of the most important pilgrimage sites for centuries, having been visited by approximately 200 saints and beatified persons, as well as numerous Popes. The Santa Casa is the house from Nazareth where the Virgin Mary was born, educated and where she received the Annunciation. The house was composed of one room in masonry and three walls in stone, placed so as to enclose a rock cavern.
Manoppello: Visit Basilica of the Holy Face of Manoppello – the Veil of Manoppello.
Lanciano: The city is known for the first recorded Catholic Eucharistic Miracle - Visit Santuario Di san Legonziano -build in 1258 over a pre – existing 7th century church. The high altar houses the relics of the Eucharistic Miracle. This miracle took place in the 8th century in the little church of St. Legontian, as a divine response to a Brasillian monk doubt about Jesus; real presence in the Eucharist. During Holy Mass, after consecration, the host was changed into live flesh and the wine was changed into blood, which coagulated into five globes in differt shapes and sizes.